Pre-fermentation Proofer CTZ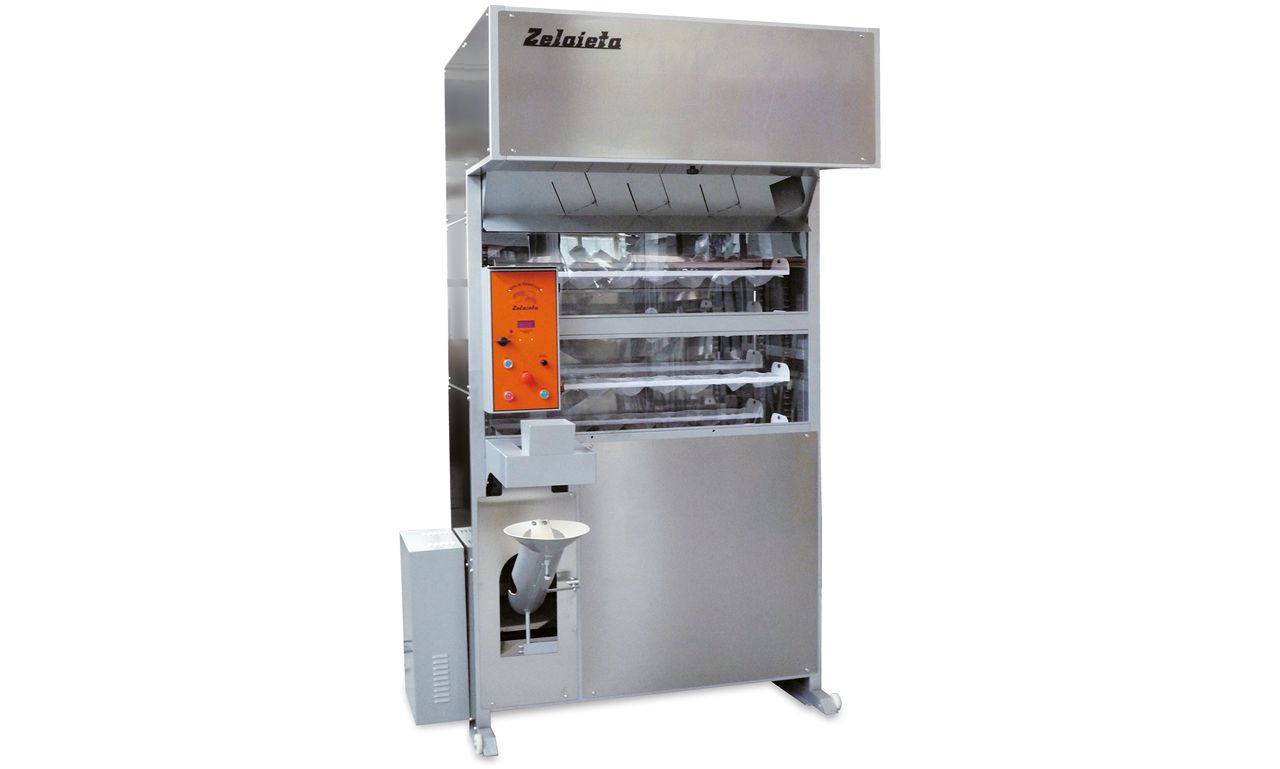 Accurate and precise load-unloading.
Electric flour duster, one by one.
Suitable for all type of dough, including high hydrated ones (up to 75%).
WT range: 40-650 g.
Little maintenance.
Left-right loading, front or back.
Optional:
Special pockets for 1000 g and up to 1300 g pieces.
Extra flouring system for high hydrated dough 60-75% or long resting time.
Dimensions
Simple Depth Range
MODEL
CAPACITY
DIMENSIONS mm
POWER
CTZ-100
100
990
540
2.500
1.020
0,5 HP
CTZ-125
125
1.130
540
2.500
1.020
0,5 HP
CTZ-150
150
1.270
540
2.500
1.020
0,5 HP
CTZ-205
205
1.550
540
2.500
1.020
0,5 HP
CTZ-280
280
1.970
540
2.500
1.020
0,5 HP
Simple Depth Big Weights
CTZ-230
1.970
540
2.500
1.020
1.050 gr
CTZ-185
1.970
540
2.500
1.020
1.200 gr
CTZ-164
1.970
540
2.500
1.020
1.350 gr
Double Depth Range
MODEL
CAPACITY
DIMENSIONS mm
POWER
CTZ-145
145
850
1.050
2.500
1.530
0,5 HP
CTZ-185
185
990
1.050
2.500
1.530
0,5 HP
CTZ-245
245
1.130
1.050
2.500
1.530
0,5 HP
CTZ-295
295
1.270
1.050
2.500
1.530
0,5 HP
CTZ-395
395
1.550
1.050
2.500
1.530
0,5 HP
CTZ-545
545
1.970
1.050
2.500
1.530
0,5 HP
CTZ-810
810
1.970
1.050
2.500
1.530
0,5 HP
Double Depth Big Weights
CTZ-446
1.970
1.050
2.500
1.530
1.050 gr
CTZ-365
1.970
1.050
2.500
1.530
1.200 gr
CTZ-316
1.970
1.050
2.500
1.530
1.350 gr
We are in
Barrio Zalaín, 19
31780 BERA, Navarra
Contact by
+34 948 631 004
info@zelaieta.com